Weber
| January 17th, 2008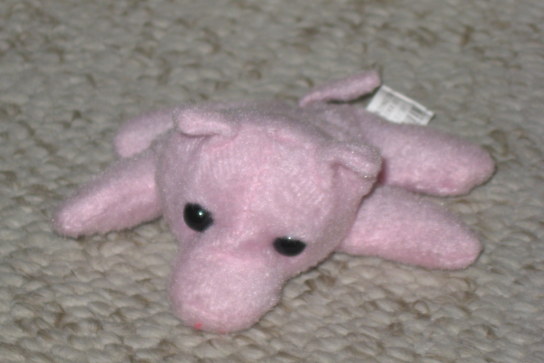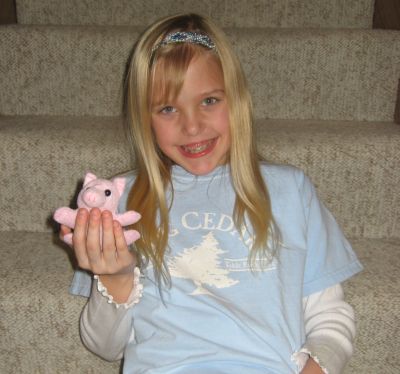 Here's a map of my trip!
***** Update January 24, 2008 *****
Weber had fun with Steve in California. Can you tell where Weber got to go? Click on the pictures to see them in full size.
***** Updated February 11, 2008 **********
Weber had some great fun with Christian in Norway. Christian sent some descriptions for his pictures. Can you tell where Weber is headed next? (Hint: look at the last picture.)
Weber in front of the Stavanger Cathedral. It was buit from 1100 and finished in 1125. It stood through a fire in 1272, and is the oldest cathedral in Norway.
I took Weber with me into a shopping centre. He ran away, but after looking I ended up finding him bothering some person withdrawing money from an ATM. She didn't mind though.
Weber going shopping
Weber found some boots on a sale. However, they didn't quite fit him.
Weber in front of Sølvberget, the culture centre of the town containing a liberary, a museum of toys and a cinema. The statue he is resting on is an artwork by Antony Gormley called "Broken Column", and is one of 23 identical sculptures placed around in Stavanger.
Even in Stavanger, Weber found traces of home.
Weber in the city centre facing the cathedral
Weber in the city centre facing the harbour
Weber said hi to some some swans down at sea level in Stavanger.
Weber on a statue of a paper boy on the outscirts of old Stavanger.
Weber found some more art, and took refuge under an eagle.
"Gamle Stavanger", or "Old Stavanger". An area of the old Stavanger is still preserved, with wooden buildings from the 19th and 20th century. Some say it might even be the largest area of authentic wooden buildings anywhere in Europe. Though the area os preserved most of the houses are still privately owned, and still in use as homes. See if you can spot Weber.
Another picture of old Stavanger, Weber is on the picture, but almost impossible to spot. One can catch a glimpse of him though, a little bottom right of the centre of the picture.
Still hanging around in Old Stavanger.
Weber inspecting another sculpture.
A view of new Stavanger from gamle Stavanger. In the background Vålandstårnet, or "Våland Tower" is seen. This used to be the headquarters of the law enforcement in the town, as one can see most of the town from there.
I caught Weber eating a pancil. Sorry for the bad quality, but I had to catch the moment using the camera on my phone.
Over the weekend Weber got to travel with me to Drammen, a city outside of Norways capital; Oslo. Sadly I could not take many pictures from the trip, as the battery on my camera was almost run out, and I had forgotten my charger. Here is Weber on the train from Oslo to Drammen.
Weber on the piano at the place I was staying in Drammen. I was there with a national chirch choir, Cantus Aeterna (lLtin for "Eternal Song", and we had a concert in Asker Church, and the local church in Drammen.
On my way home from Drammen to Stavanger I had a trip to Oslo as well, the capital of Norway. I took him to see the Norwegian palace where the King and Queen lives.
Weber and Christian

Where could Weber be going next?
*********** UPDATE March 14, 2008 *****************
Weber showed up in Australia! Hamish was kind enough to host Weber. We received the following email from Hamish about all of the fun things that Weber got to do.
——————-
Once again good news and not so good news. We took Webber out to the local jazz festival here in Mordialloc on Saturday and then we took him to the formula 1 Grand Prix that was here in Melbourne on Sunday and took loads of pictures. unfortunately the memory card on the camera seems to have become corrupted as no matter what card reader we use we cannot access the card. To that end I am afraid all we could do was take some emergency pictures of the kids on their way to school with an Australian flag and I attach them here. the kids are Alexandra the eldest girl, Edina the smaller girl and Finley our son. so sorry we don't have all the great photos from the festival and the grand prix as they would have been great but I understand that we need to get Webber back for his party so we will be sending him off tomorrow morning so he should be back in time for the party. we thought about keeping him over Easter and taking some more pictures but that would have jeopardised his getting back.
——————-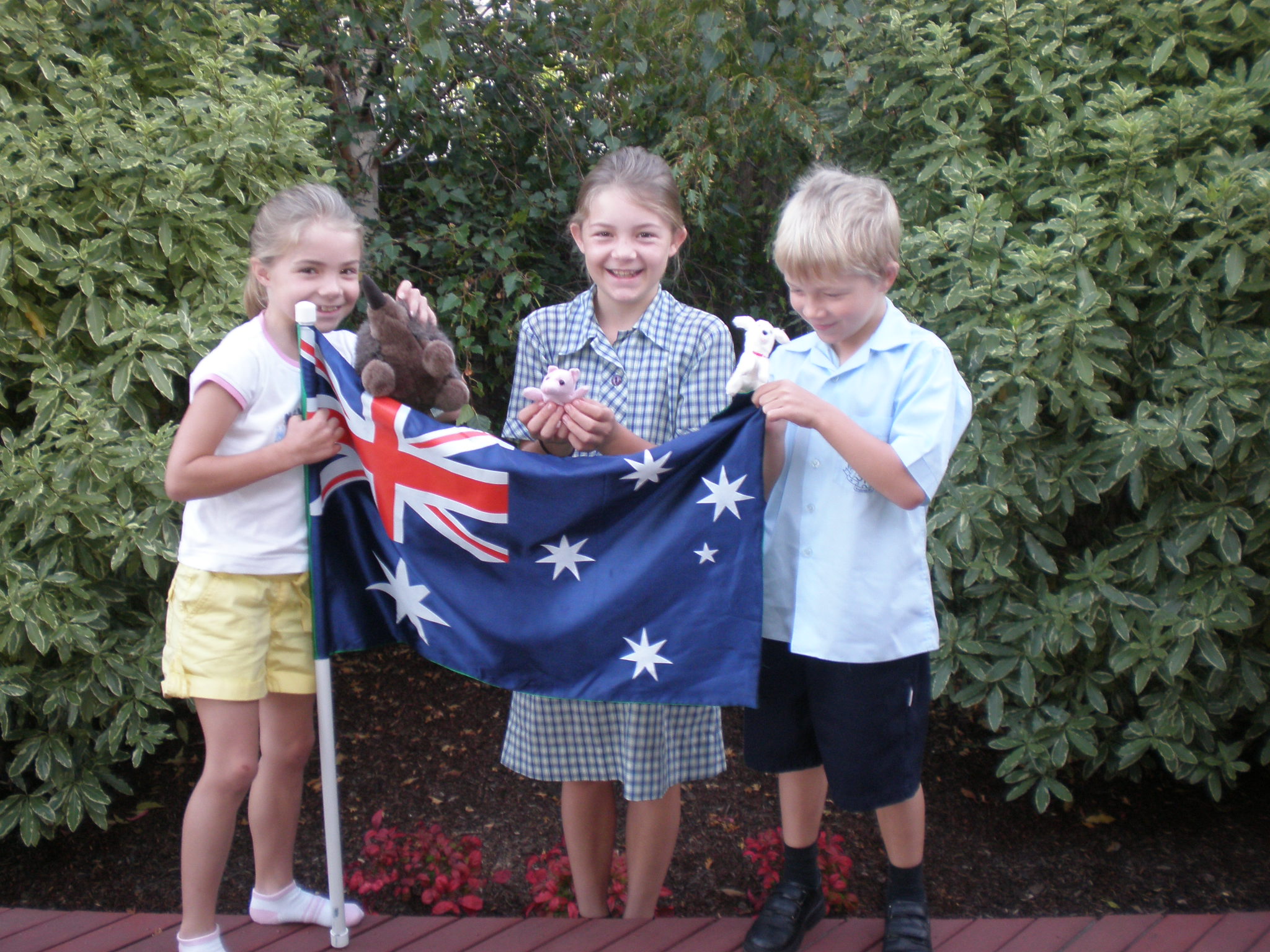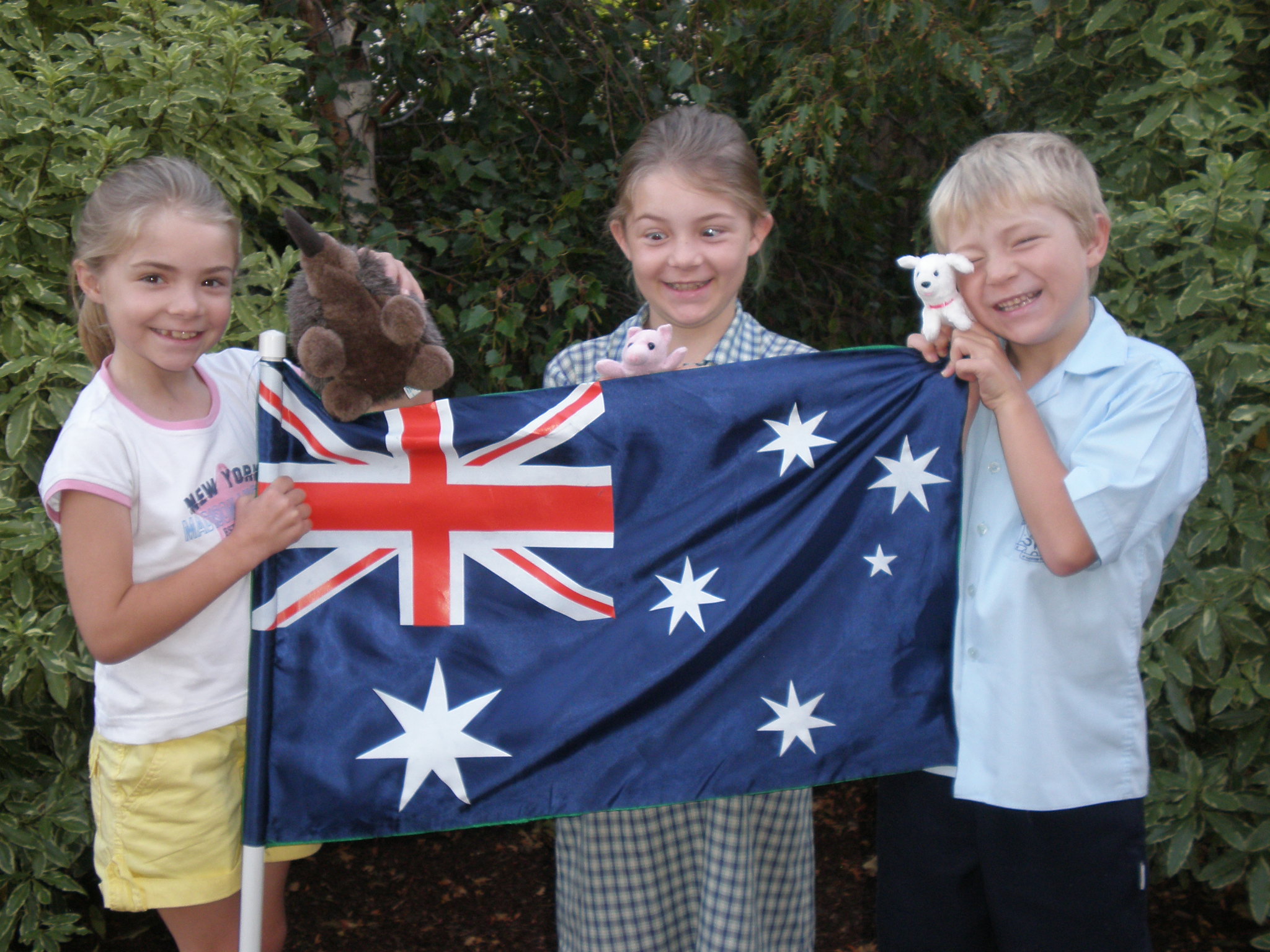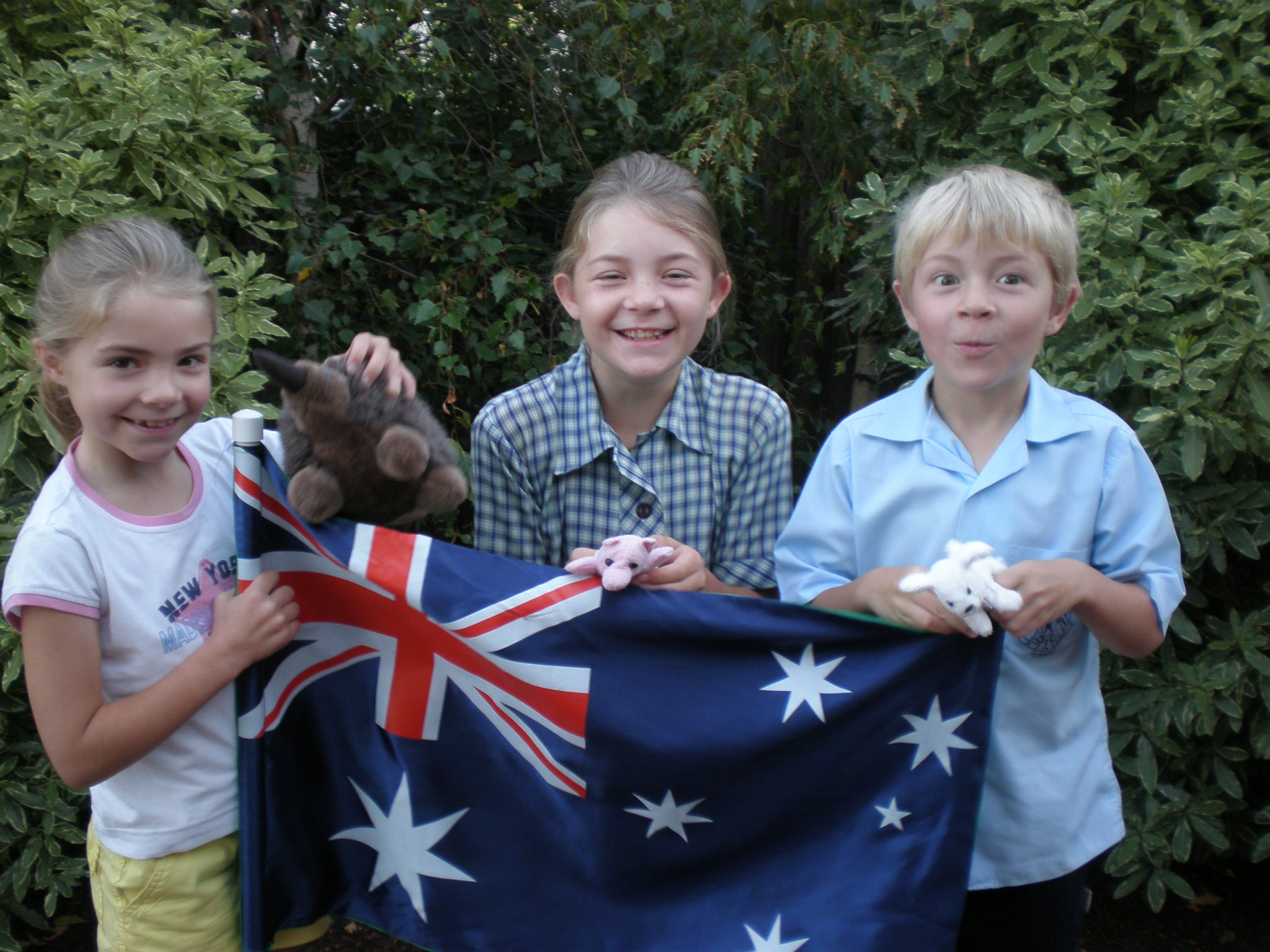 Now we're waiting anxiously for Weber's return home. Since our welcome home party has been rescheduled for April 11, we're hoping that Weber will get back before the party!
Thanks Hamish!
*********** UPDATE April 11, 2008 *************
Weber made it home and Rebekah and her class threw a Welcome Home party for their pets. During the party, all of the kids were able to look at all of the cool places that the pets got to travel.
Thank you for helping Rebekah with her school project. She learned a lot and it was a fun exercise for her.