Do you hold a preconceived idea of what worship is? How do you worship?
The other day I experienced one of the most enjoyable worship experiences that I have had in a long time. I was at the gym, getting ready to start my 28 minutes on the elliptical trainer. This is a special 28 minutes because I use that time to talk to God. Most of the music I have on my MP3 player is Rock & Roll. Most with a Jesus theme and the rest is old stuff that I grew up with. On this particular morning, the first song in queue was by Iron Butterfly. Yes – you know it as the 17 minute rock classic, "In-A-Gadda-Da-Vida".
The words are simple:
In-a-gadda-da-vida honey,
don't 'cha know that I love you?
In-a-gadda-da-vida baby,
don't 'cha know that I'll always be true?

Oh won't 'cha come with me,
and take my hand?
Oh won't 'cha come with me,
and walk this land?

Please take my hand…
That's it. They sing the words at the beginning of the song and at the end of the song. In between, is about 15 minutes of instrumental guitar solos, drum solos and organ melodies that remind me of "God Rest Ye Merry Gentlemen". Anyone who was ever in a marching band has played that drum solo. The main riff of the song is instantly recognizable.
That morning, it was perfect praying music. For seventeen wonderful minutes, I was walking with my God in the Garden of Eden. I was talking to Him. He was talking to me. I told Him about my kids and my hopes and dreams for them. I told him about my wife – even thanking Him for providing such a wonderful woman to spend my life with. I thanked Him for giving me great parents and grand-parents. Great examples of lovers of Jesus. I thanked Him for my job and for opportunities to show Jesus to others. I asked Him to help me be a great husband to my wife and a great Dad to my kids. It was a great conversation.
The point of all this is that worship isn't a song or a place. Simply – it is time spent with God. You can worship with music, you can worship without music. You can worship to "Christian" music and you can worship to psychedelic rock.
Wondered why I called this post "Worshiping In The Garden of Eden"?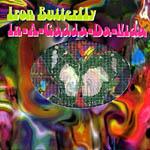 Wikipedia says, "A commonly repeated story says that In-A-Gadda-Da-Vida's title was originally "In the Garden of Eden" or "In the Garden of Venus" but in the course of rehearsing and recording singer Doug Ingle slurred the words into the nonsense phrase of the title while under the influence of LSD. However, the liner notes on 'the best of' CD compilation state that drummer Ron Bushy was listening to the track through headphones, and couldn't hear correctly; he simply distorted what Doug Ingle answered when Ron asked him for the title of the song (which was originally In-The-Garden-Of-Venus). An alternate version of the story, as stated in the liner notes of the 1995 re-release of the In-A-Gadda-Da-Vida album, states that Ingle was drunk when he first told Bushy the title, so Bushy wrote it down. Bushy then showed Ingle what he had written, and the slurred title stuck."
Little did they know then, that for me, they would record one of the best worship songs in years!