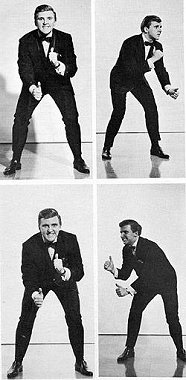 The Sixties were a time where coming up with new dances was the fad. I was born in 1962 and although I was never exposed to the dancing in the sixties I have always been fascinated with all of the dances created in the 60's. (My generation had Disco – stop laughing!) Here's a quiz – get out a piece of paper and write down all of the dances from the sixties you know. You know, like The Finger Poppin' or The Monkey or remember The Chicken?
Sunday, Pastor Bart talked about how God wants us to have fun. Shouldn't life as a Christian be full of joy and laughter? I love to laugh – most of the time, it is hard for me to be entirely serious. I love life! I may not like my current circumstance but I love living! I love that God wants to have a relationship with me – even when I make mistakes (which is often). I love how God, knowing that I would be a screw-up – sent his Son to die and pay the price for my sins so I could still be with him for eternity. I love knowing that I have a hope – that I don't have to go through life not knowing why I am here or what happens when I die. I love knowing that I can love everyone because Jesus first loved me. I am loved – so I can love. I love the fun I have when I get together with my friends from church. I love canoing with the guys in the church. I love the picture of the guy to the left doing the Watusi. Wow, just thinking of all of things I am thankful for, makes me want to dance! Maybe even the Mash Potato!
Back to the dance list. Once you get done with your list, go to this page and check your answers. You'll be amazed!