I just read an Open Letter to Tony Campolo by Drew Dyck of New Man Magazine. In it, he questions a couple of positions that Campolo seems to hold – 1) Muslims obtaining salvation apart from belief in Christ and 2) homosexuals shouldn't have to change who they are to be saved.
These are two topics I have discussed in previous posts [Understanding the Emerging Church and Time for a discussion in the church about Gay, Lesbian and Transgendered Issues or God's Grace – 101]. These attitudes are rampant in post-modern thought. We are living in a world where compromise is the norm and taking a stand for truth is abnormal.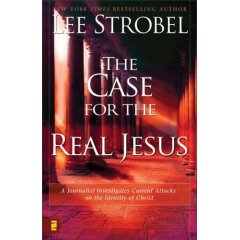 I have been reading Lee Strobel's new book, The Case for the Real Jesus. Although I am still in the first few chapters of the book, one point has been sticking in my mind as I read it. Over the years, in an effort to make Christianity more appealing to non-believers, the church has watered down it's theology. As a church, we have stopped placing an importance on the redemptive act of Jesus' death on the cross. In an interview with Daniel B. Wallace Ph.D., Strobel was trying to understand the authenticity of the scriptures in light of recent allegations that the Bible is full of mistakes and contradictions and missing some books that teach something else. Dr. Wallace, in addressing a particular allegation said, "It's disturbing that when it comes to the Christian faith, people don't really want – or know how – to investigate the evidence. Christians are not being led into proper historical research by their pastors. I have been saying for some time that I don't think the evangelical church has fifty years left of life to it until it repents." Strobel responded, "In what way?" Wallace continued, "First, we have to quit marginalizing scripture. We can't treat the Bible with kid gloves. We really need to wrestle with the issues, because our faith depends on it. And second, we need to quit turning Jesus into our buddy. He's the sovereign Lord of the universe, and we need to understand and respond accordingly."
Isn't that the crux of the whole situation we find ourselves in right now? As a church, we don't teach theology so when some new theory comes along, we don't have the knowledge or tools to defend our faith. Some things might even sound good so we compromise our beliefs because we don't have a theological foundation to stand on. Then someone else comes along with some new special knowledge and we go along with that because we are already started down the road of compromise. We have faith – but we don't have maturity. It is my opinion that today's church has become what Paul described when he addressed the church in Corinth.
The Corinthian believers had become aware of the need to reorient their pre-Christian attitudes and actions along Biblical lines, but at first their transformation was incomplete, and they were just "babes in Christ," to be pitied and nurtured in their immaturity. The Greek word sarkinos implies this infant stage.
However, as the years went on, they continued in their immaturity. By this time they should have grown to Christian adulthood, themselves helping others through the infant stage, but instead they had willfully and sinfully remained in their immature state. For this Paul rebukes them.
It is imperative that we continue to grow in Christ. Everyone needs to learn to emphatically defend their faith. We need to continue to help others through the infant stage into Christian maturity so when beliefs, such as espoused by Mr. Campolo are raised in the church, they can be debated with an argument based in knowledge and not feelings.
A good place to start would be our 21st Century Christian series or any other series we have posted at Grace Learning Center. Another resource that I enjoy is the online theology course at Reclaiming The Mind.