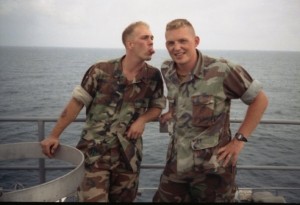 Yesterday was the Marine Corps 234th Birthday. As our custom, I called my bro' Paul and wished him a Happy Birthday. We hadn't talked for about a year but it was as if we were still onboard the USS Raleigh in the middle of the Persian Gulf talking about our dreams, goals and our wives. We didn't know each other very well before that deployment but by the end of the deployment, we became brothers. It's been about 16 years since I've seen him. When we talk, we speak about how fun it would be to get back together. Another year passes and we do it all over again. Our kids grow older, our hair gets grayer (or in Paul's case – becomes non-existent). But one day a year, we are back on that ship. Laying on the deck staring up into the vast theater of stars provided by God, talking about life and solidifying our bond as brothers.
It is with this fond memory that I wish all who served a Happy Veterans Day. The bond we share is deep and only fully understood by those who have served. God Bless those who are standing in harms way today – forming the bonds that will last them for the rest of their lives.
Semper Fi. I Love Ya 'Bro.