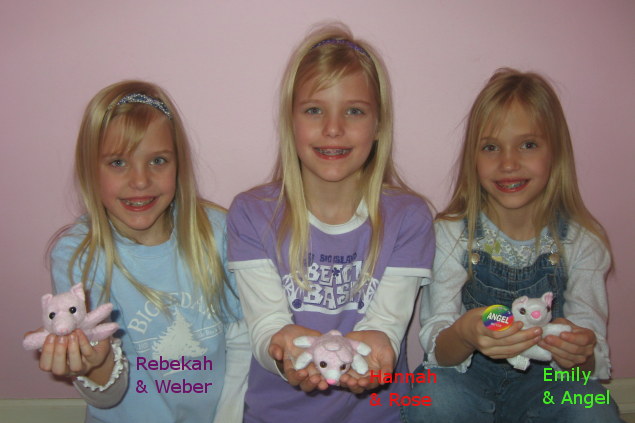 UPDATED:
I created pages for each of the pets to follow them on their adventure!
* * * * * * * *
My triplet daughters have a second grade school project that I would like some help with. It's called Pets around the World. Essentially, they each have been given a small stuffed pet and a journal. Their mission is to send their pet on an adventure with the eventual homecoming sometime in April. Here is where I need your help.
To participate in this adventure, you would have to agree to accept this small envelope, add to the journal and then forward it to a friend. Eventually, as April 1 approaches, the person who has the animal at that time would then send it back to the school in time for their reunion party.
My oldest daughter did this in 2nd Grade also and Weber took a trip around the world!
How do you participate? Leave a comment to this post and I'll contact you to get your mailing information. This is an awesome experience for the girls because it helps them learn about other cultures and to realize that we are all pretty much the same!
If you live outside the U.S. or know people outside the U.S. that would be willing to participate, please comment below! Eventually, I'll have a separate page here to track each of the animals on their journey around the world.